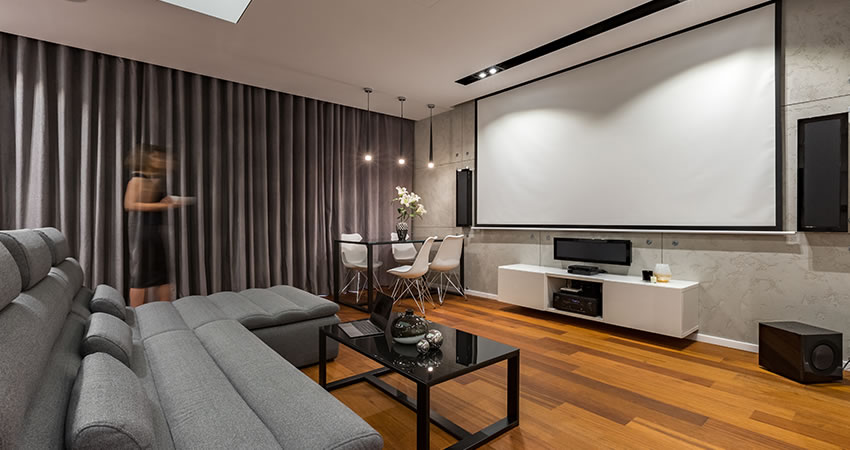 Our Home Theatre Installation Services Help You Make the Most of Your TV and AV System
At ASAP TV AV & Antennas, we love helping our clients get the most out of their TV and AV system with our home theatre installation services. We specialise in all things home theatre from ensuring you a perfect connection, to excellent sound quality.
Whether you have a dedicated space you want to turn into a cinematic experience, or you have an open plan living area, our experienced staff can work with you to create a home theatre setup to suit your needs.
With our home theatre installation services, we can work with your original or new home theatre equipment, or we can provide you with a full home theatre package.  From the design setup and choosing the right products to the final calibration and handover, our helpful team will have you sorted.
Our Experts Share their Knowledge and Tips with You
We've been in the TV AV and telecommunications industry for decades. Our staff are all highly trained and experienced with TV and AV systems. As part of our home theatre installation services we're happy to share our knowledge with you, so you have a complete understanding of how your home theatre works.
Our Expertise Doesn't Stop at Home Theatre Installation
As well as home theatre installation, we can also help you with professional tv wall mounting, speaker installation, multi-room media distribution, multi-room audio and universal remotes.
Our experts can help you connect your whole home, so you can access your favourite shows, or music from every room of the house, with one simple and easy to use remote. Depending on what type of setup you're after, it's even possible to control everything from your smart phone.
ASAP TV AV & Antennas Are the Gold Coast's Audio Visual and Telecommunication Specialists
ASAP TV AV & Antennas have been a part of the Gold Coast community since 1994. Over the last few decades we have made a name for ourselves with our competitive prices and excellent service. No matter where we are or what we're doing, you can always expect a job well done.
We do more than just home theatre installation, we also take the time to educate our customers on their new technology. When we leave, you'll have the confidence and the know how to get the most out of your new audio visual or telecommunications setup.
For more information on our home theatre installation service, or for a free quote contact our experienced team.